It only takes a ride or two on your new Rad Bike to say, "I should get a bike mirror". This is exactly what I thought during my second ride. When making a dart across the street or wanting to know how close cars were behind me, these were times I wished I had a bike mirror.
PS – While bike mirrors are super useful, you need to know how to use them properly. You can actually rely too much on your bike mirror which is unsafe.
So, which bike mirror should you get for your Rad Bike?
Rad Bike Mirrors
Rad does sell a mirror on their Rad Website. The problem is they are often out of stock and there are sometimes better/cheaper mirrors out there.
Two of the most popular mirrors for your Rad Mini or Rad Rover are the Mirrycle and Hafny mirrors.
Mirrycle Mirror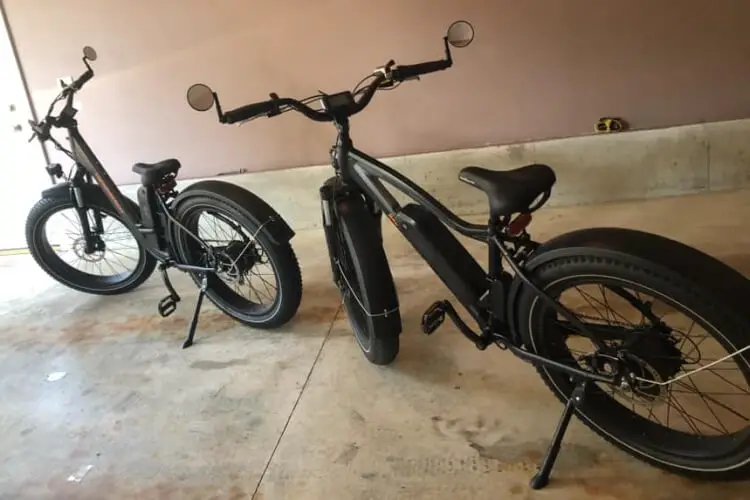 This is probably one of the best electric bike mirrors out there. While you might see it labeled as the "Mirrycle Mountain Bike Mirror", it's perfect for your Rad and works on almost any bike.
I say almost any bike because after doing some research in the Rad Owners FB group, the mirror doesn't seem to work well with the Rad Runner.
The issue with the Rad Runner is that the inside of the handlebar has a piece that prevents the mirror from being able to fully insert all the way. I emailed Rad Support to find out more details and this is what they had to say:
As we do not sell this product nor have we had a chance to test this type of mirror, unfortunately, we are not able to confirm whether the Mirrcycle mirror would be compatible with our ebikes. 

Rad Power Bikes Support
Some users had luck attaching the Mirrycle mirror to their Runner with some modifications. Check out this post from the FB group.
Mirrycle is the mirror I personally use on my Rad Mini 4 and it works great. I hear it also works well on the Rad Wagon, Rad City, and the Mini Step Through.
Other riders love this mirror too:
Love mirrcycles, have put them on every bike I've owned.
You won't be disappointed. It is by far the most popular mirror of Rad Power Bikes owners.
The Mirrycle mirror does take some extra assembly to attach it to your Rad handlebars. You'll want to take off the end cap of your handlebars and screw in the Mirrycle mirror. It takes a few minutes but it's a really stable fit.
Lots of people are happy with this mirror, myself included. It swivels in any direction, is super visible, and comes with high impact plastic. Check out the 5000+ Amazon reviews for yourself.
Hafny Mirror
The second most popular mirror for Rad Bikes is the Hafny Mirror. Unlike the Mirrycle mirror that screws into the end of the handlebars, this Hafny clamps onto the handlebar instead. This is the ideal mirror choice if you have the Rad Rover.
While the Hafny is a great mirror, these clamp on style mirrors do take up room on your handlebar. If you have a lot of other attachments on the handlebars, it might be a tight fit.
As for assembly, it is a little bit easier but does require a 5mm Allen wrench. You can use the one that came with your Rad or pick up a nice bike multi-tool.
Meachow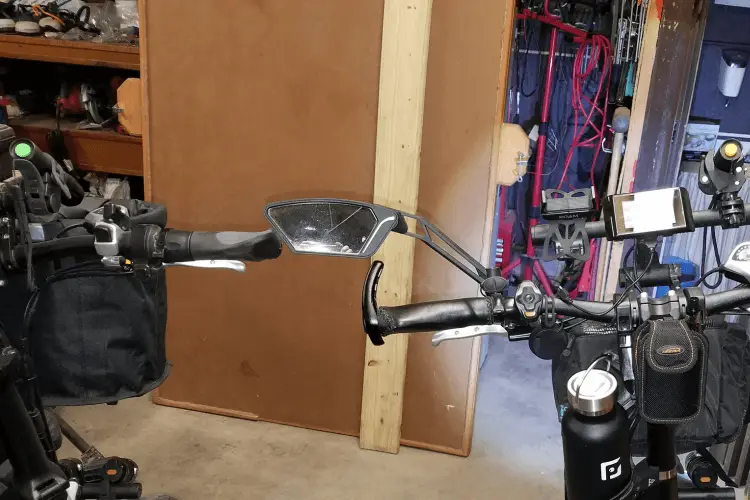 Yet another option that is still a good choice are MEACHOW mirrors. Like the Hafny mirror, they clamp on to the handlebar.
A couple cool features is that it comes with an anti-glare coating and is scratch resistant. Another fine choice for a mirror for your Rad bike.
Check out the price and Amazon review here.
One Mirror or Two?
While you'll sometimes see two bike mirrors on bicycles, most of the time one is enough. In the US, you'll want to have a mirror on the left-hand side.
The reason why you'll typically only need one mirror is because you'll most likely not be keeping up with traffic when on the road. However, if you are doing a lot of tricky navigation where there is multiple lanes, two mirrors can help.