Whether you got a new bike, bought one second-hand, or are a regular rider, getting a bike tuned is something you've thought about. But how much does a bike tune-up cost? And do you really need one?
A basic bike tune-up costs $60-$80, while a standard tune-up costs $100-$160. These services include adjusting the brakes, drivetrain and gears, truing wheels, cleaning, lubricating, and more. A complete overhaul costs cost $150-$250+. An overhaul involves removing a deep cleaning and lubricating of all parts.
Do You Really Need a Tune-Up?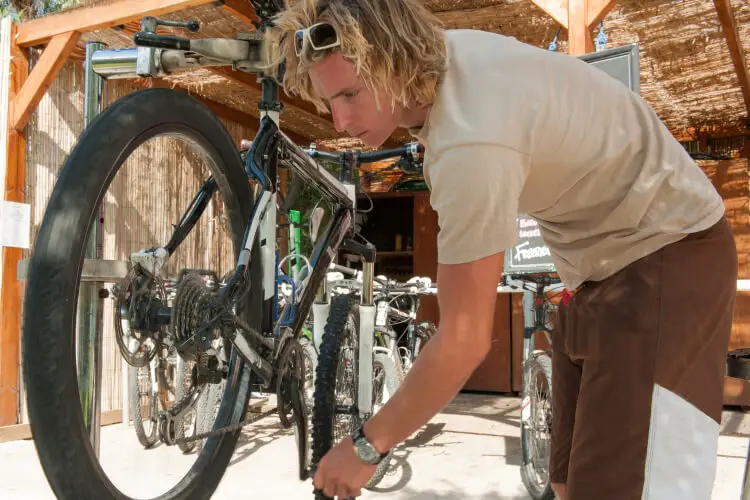 Most of us will need a bike tune-up. For new bikes, there's a break-in period where spokes become loose, brake cables stretch, and parts get out of alignment when they "settle in".
For older bikes or bikes ridden regularly, other parts will start to wear down and even chains can start to stretch.
Even bikes that don't have any problems can rust or seize up if they are not ridden and left in the garage.
There are some things you can do to your bike yourself (as we'll see below), but having a professional take care of certain aspects will go a long way.
A tune-up will fix all these issues and make sure your bike is safe, last longer, and give you a smoother ride.
How Much Does a Tune-up Cost?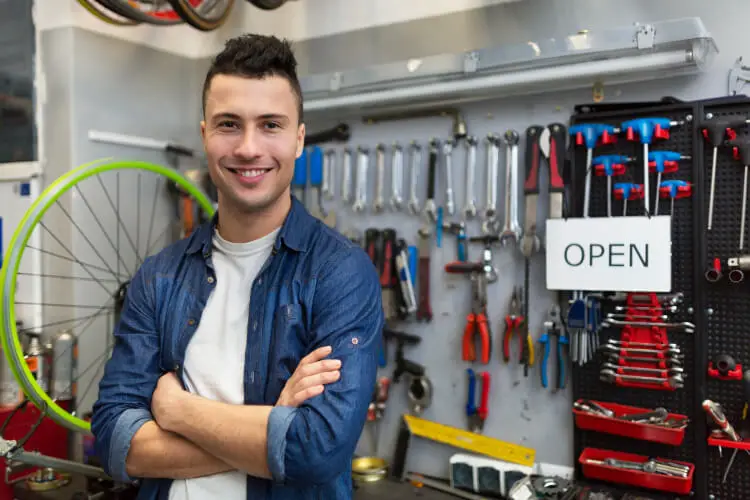 Tune-ups vary in price and features. It's best to check with your LBS (local bike shop) to see the different packages they offer. Often you can go on their website.
Here's an example from my LBS about prices for tune-ups. Overhaul prices are not shown here.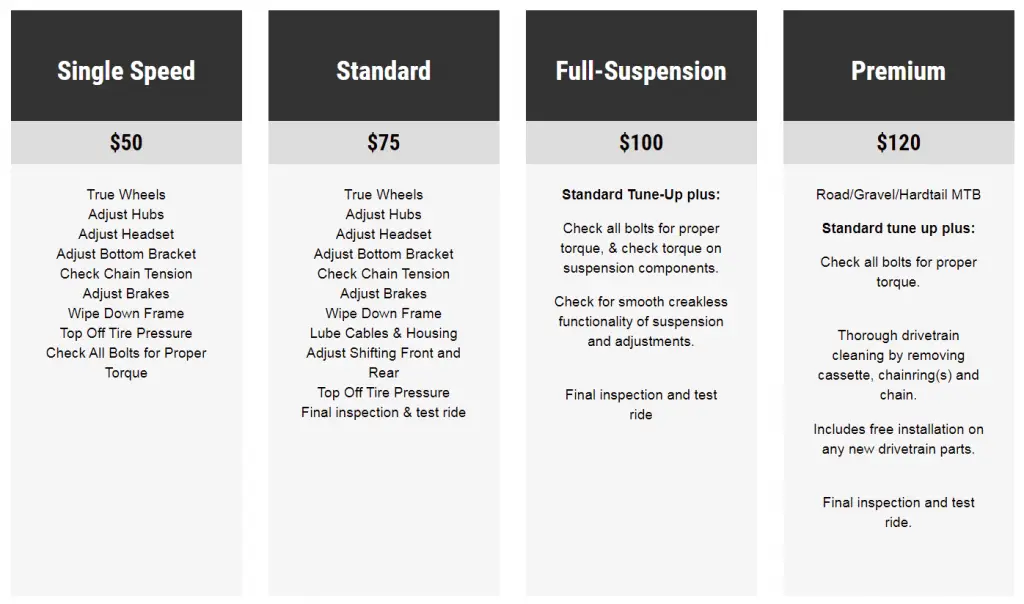 A light tune-up of an almost new bike will cost less than a complete overhaul. This is why most bike shops are going to have different kinds of tune-ups at different prices. You might even want to shop around.
The list below will give you a good guide of how much a tune up cost.
Basic Tune-Up: Costs $60-$80 
There are tune-ups available that costs below $40 dollars. However, look carefully at what's included. Basic tune-ups at this price tend to be a check-up rather than a tune-up. They may lubricate the chain and do some cleaning, but not anything technical that a beginner couldn't do themselves.
For a real tune-up, you're better off paying a little bit more money. Basic or regular bike tune-ups usually start at around $60-$80.
Basic level tune-ups usually include:
Checking and adjusting the brakes
Adjusting the drivetrain
Torque all fasteners
Inflating the tires to the correct pressure
Truing the wheels and adjusting spokes
Adjusting gears and bearings
Safety Check
Standard Tune-Up: Costs $100-$160
A more in-depth tune-up will often include taking your bike apart and working on parts individually.
A standard bike tune-up will include:
All basic tune-up services
Deep clean and polish
Drivetrain removed and degreased
Professional test ride to check for issues
Overhaul Tune-Up: Costs  $150-$250+
The top-level of a tune-up is often called an overhaul. The shop will likely completely strip your bike and put it back together, deep cleaned, lubricated, and aligned. After an overhaul, your bike should be working exactly as it was intended.
A overhaul bike tune-up will include:
All standard tune-up services
Deep clean and lubrication of everything
New bearings and new cables included
While expensive broken parts won't be replaced, the bike will come back to you finely tuned, cleaned, and in the best shape possible. 
Which Tune-up Should I Get?
Here's a basic breakdown of which tune up you should get and their costs:
| | | |
| --- | --- | --- |
| Type of Use | Tune-up Type | Cost |
| New Bike | Basic tune-up | $60-$80 |
| Ridden regularly | Standard tune-up | $100-$160 |
| Seriously neglected | Complete Overhaul | $150-$250+ |
Keep in mind different shops will offer different services in different packages. After I called one LBS, I found out their basic package didn't include tightening spokes. The list below is typical, but double check first.
New Bike: If you have a brand new bike, a basic tune-up will be fine. This is good because you know the parts are in good shape. What needs to be done here is to make sure everything is tightened and aligned properly.
Ridden Regularly: If you ride your bike regularly, getting a regular or standard tune-up once or twice a year is a good idea. This is sometimes called an annual service as you won't be getting these tune-ups regularly.
If you're planning on riding in the winter, it's a good idea to schedule one before winter kicks in. This will ensure your bike is ready for the season's extra demands. You could schedule a second one for spring to make sure your bike is ready for the next season.
Seriously neglected: If you bought a bike at a yard sale or had something sitting in the garage, a full tune-up is best. You can expect a shop to remove any rust and make your bike look like new.
A basic tune-up can be carried out more regularly. If you're interested in bike maintenance, you can actually do a lot of what is covered yourself. Adjusting the tire pressure, checking of breaks, and other small features can be done yourself.
How Long Does a Tune-up Take?
A basic tune up doesn't take too long. Sometimes it can be as quick as 30 minutes. But that doesn't mean you can walk in and have it done right there and then.
Bike shops are pretty busy during their summer schedule. It's not uncommon for them to be as much as 2 weeks out. Especially during covid, bike shops are busier than ever.
Your best bet is to call a few local bike shops and find out their schedule and prices. Usually, they'll jot you down for an appointment. Then, you can drop your bike off that morning and pick it up either the same day or the next day.
If you need replacement parts, things can take a little bit longer. Often you won't be quoted an exact time, as they won't know how long it will take until they start working on the bike.
If you're a weekend rider, try booking early in the week. Then, even if the shop is running over schedule by a day or two, you're still likely to get your bike back in time for your weekend rides.
Can I Do a Tune-up Myself?
In most cases, bike maintenance should be a combination of work done by yourself and work done by the bike shop. While it's not recommended that most people do a complete overhaul themselves, there's till plenty you can do yourself to look after yor bike. REI has a good article on bicycle maintenance.
I know as a beginner, bikes can be intimidating at first. But you can start with the easy things and learn as you go.
There's an excellent book called Zinn & the Art of Road Bike Maintenance. The book covers everything from basic maintenance, emergencies, and overhauls. The author explains all the tools and the book has over 700 digrams making it both beginner-friendly and concise.
Here's a video of how to do a tune-up yourself, typically done every 6-12 months depending on how much you ride:
Learning to do your own bike maintenance is good for two reasons. First is safety. In the event anything goes wrong, you can fix it then and there. Second, it will save you a lot of time and money. Plus, it's kind of fun and rewarding.
What Kind of Maintence Can I Do Myself?
On a regular basis, you should lubricate the chain, check the brakes, and of course clean your bike. A set of bike cleaning brushes will help you get to the parts of the bike that can be hard to reach.
For brushes, pick up a pair of Park Bicycle Brushes (Amazon link). These come in a set of 4 and are specific for cleaning all around your bike. They are great for cleaning in the tight areas without scratching and getting in those awkward corners.
Perhaps the most neglected part of the bike is the chainset. Cleaning these more technical bike parts is intimidating at first, but it's actually quite easy with the right tools.
You can pick up this nifty chain cleaner to get all-around your chain easily:
The Park Tool Chain Cleaner is also available from Amazon. In the hurry though, you can even use WD-40 on your bike as a degreaser and lubricant.
Tire pressure should also be checked regularly as it affects both the safety and comfort of your ride. If you don't already have a pump, it's best to buy one with a gauge. This way you'll be able to quickly check the pressure at the same time. I like the BV Bicycle Pump (Amazon link) since the pressure goes down to 10PSI.
How Often Do I Need a Bike Tune-Up?
If you're riding regularly, a standard tune-up once or twice a year is ideal. You can get a tune-up at the beginning of the season and midway through.
If you are riding your bike hard or off-road, you might want to get a tune-up more often.
Here's a general guide of things you should check:
Every ride you should:
Check tire pressure and add air if needed
Inspect tire tread for, damage, wear, or debris that could cause a puncture
Make sure all quick release clamps are tight
Add chain lube if needed
Ensure brakes are working
Perform a light check
Every month you should:
Clean the bike frame and tires
Inspect for cracks (especially on folding bikes)
Clean the chain and cassette
Check wheel spokes (see riding with broken spoke)
Check all bolts are tighened
Lube the brake, derailleur, and clipless-pedal pivot points
Lube the cables and check for bindin, wear, or rust (replace if neceesary)
Every 6 months you should:
Clean and wax the frame
Check and replace tires if needed
Check brake pads and replace if needed
Clean the drivetrain
While you don't have to follow this schedule to the T, use it as a general guide to follow. It will keep your bike working better for longer and save you money in the long run.