Whether it's the new terminology or the endless amounts of bike parts, diving into road cycling can be fascinating. The learning and research parts can be almost as much fun as riding, particularly when your interest is just developing.
There are some questions though, that you might want to research online if you want to hide your beginner status at the bike store. Surely every cyclist has walked in a bike store and thought, why doesn't that bike have pedals? Did they forget to put them on, are they extra, or perhaps you get to make a choice of which model you like?
You may have even seen other models of road bikes with pedals attached. We have uncovered the pedal question below, so you know where you stand the next time you're in the store.
Do road bikes come with pedals? Often times, road bicycles are not sold with pedals. This is particularly true for high end bike models. Many riders have their own preferences with it comes to pedals and even shoes. Bicycles are not sold with pedals as riders like to attach their own and it helps keep the cost of the bike down.
Are Road Bikes Always Sold With Pedals? Why Not?
Bikes can vary hugely in every way, and that's particularly true of road bikes. A bike being put to the test at the Tour De France will have little resemblance to one for sale in your supermarket.
With few exceptions, most road bikes in the mid to high end do not come with pedals and you need to buy these separately. Moving towards the lower end of the market, pedals are much more likely to be included and attached to a bike that's being sold.
The reason why pedals aren't included comes down to a couple of factors. First, riders often have a strong preference for which pedals they like to use. As there is such a wide variety of pedals available, the chances of a new bike having the same ones you like are pretty slim. So basically, you would be spending more money for the pedals even though you weren't using them.
Secondly, pedals can be quite technical and there are a lot of compatibility issues between pedals and shoes. If you already have another bike and have invested in a system that works for you, you're probably going to want to keep things consistent rather than getting something different.
So in most cases, experienced riders would rather transfer their exiting pedals over, or buy something specific that fits into their existing setup.
We spoke to Trek who confirmed that only a few of their entry-level road bikes come with pedals, while the rest do not. They explained:
there are quite a few different options out there, so we usually don't include them as that would raise the cost of the bike and the customer may not want that style of pedal in the first place.
Should You Keep The Stock Pedals?
In many cases, if a road bike does come with pedals they will likely be quite low quality. If this is the case, there is an easy way to tell. Most bike specifications include the part details. This means you can find which pedals come with the bike and find the review and ratings online. You can also find the bike being sold online and see read how other people like the stock pedals.
For example, Schwinn's budget racing bike, the Volare, doesn't list the pedal type. This probably means it's not a name brand and that it's not a big cost of the bike. In another case, Trek's well-regarded entry-level road bike, the Domane Al 2, only includes basic nylon pedals by Wellgo. While the bike retails for $859.99, the pedals can be bought separately for about $15.
On less expensive bikes, the budgeting is very tight as brands compete to fit models into a lower price bracket. The pedals are often one of the areas where corners are cut. Riders will often accept this, as even budget pedals are still functional and can be upgraded quite easily and without getting too expensive. Instead, bike companies instead often focus on more important parts, like frames and forks, as these are the more likely to entice buyers. 
How Much Do Pedals Cost?
So how much do pedals cost? There are many different types of models aimed at different types of riders. At the budget end, you can find models starting at around $10-$15 dollars. These are usually resin or an alloy resin mix, and in most cases, they won't last a particularly long time. In the $40-$80 dollar range, you can find better quality pedals of decent quality often made from steel.
At the top end where every gram counts, you can easily spend more than the price of an entry road bike on carbon or titanium pedals. For most riders, the performance and weight advantages wouldn't justify the costs (see Does Pedal Weight Matter?). Additionally, your pedals should be proportionate to your bike. It just makes little sense to have an entry-level road bike with a pair of $700 pedals.
Which Pedals to Get?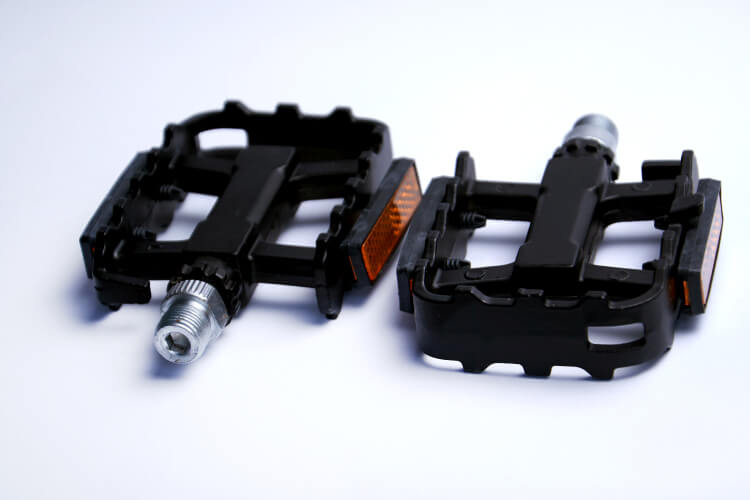 Pedals can be broken down into two types, flats and clip-less. Flat pedals are the design we are most used to seeing, where you simply rest your foot on the pedal. While clip-less pedals allow you to clip your shoe in, locking into the pedal. This happens on the shoe sole by using a small fitting called a cleat.
There are some benefits to clip-less pedals that make them so popular. Being attached to the pedal helps a lot with stability and improves your ability to maneuver the bike. You can also add pressure on the upstroke while pedaling which allows you to generate power.
Interestingly enough, clip-less pedals were a development from another pedal idea. To make flat pedals more effective, toe clips were invented to add extra control. These are much less popular today, but the idea of attaching the shoe to the pedal inspired the invention of clip-less pedals.  
As clip-less pedals attach via the sole, they didn't require a toe clip. This is how they became known as clip-less pedals despite the fact that the main feature is that they clip in. 
So, one of the main decisions is whether to choose flat pedals or clip-less. If you're new to road riding and your existing pedals are budget nylon models, you may be happy moving up to some nicer metal, flat pedals. If you're looking to take a bigger step, then clip-less pedals are a very popular way to go. 
In truth, while not every road bike rider will end up will clip-less pedals, the majority will. The added control and reduction in weight make it an enticing move. If you're looking to upgrade your pedals now, taking the step to go clip-less might well save you money in the long run.  Small upgrades of bike parts can often become more expensive than taking big steps. If you think you're likely to end up with clip-less one day you could save money on an intermediate pair. 
Can You Use Mountain Bike Pedals on a Road Bike?
If you prefer flat pedals, there is a wider range of flat mountain bike pedals than specific flat road pedals. If you're staying with flats there would be no issues using pedals designed for another type of bike on your road bike. You might find the pedals are a little heavier and have a larger profile but there is nothing to stop you giving them a try. 
For clip-less pedals, there is more to consider. To attach your shoe into the clip-less pedals you need a fitting that attaches to the bottom called a cleat. Road bike pedals are not compatible with mountain bike cleats and vice versa. In fact, some road bike cleats won't actually fit other road bike pedals.
For instance, Shimano, one of the leading pedal brands, has a pedal system for road bikes called SPD-SL. These pedals require a compatible cleat. Not only are the fittings different from Shimano's mountain bike pedal system (SPD pedals), but they are also different from other leading road brands such as LOOK. So, it is possible to use clip-less mountain bike pedals but it's more straightforward with flats.
The clipping mechanism for clip-less road bikes is slightly different than the mountain bike system.  You will find with the road bike system you're attached a little tighter, and your foot won't move around as much. Also, the road bike pedals do tend to be slightly lighter than the mountain bike equivalent, but the cleat is slightly larger. 
Do I Need Cleats?
If you're going down the clip-less route, then cleats are a must. You need to be secured to the pedals and a set of cleats are the only option. Beginners might well want to stay with flat pedals initially, but most experienced riders will eventually end up with a clip-less system.
If you're using your bike for short commutes it might not justify the investment or the inconvenience of clipping in and out. But if you're planning on getting serious with your riding and going longer distances it would definitely make sense. 
It's worth considering that you will not only need to select pedals that you feel comfortable with, but cleats, pedals and shoes that are all comparable and work together.  Once you have gone to the trouble of choosing and investing in them, you might hope the next time you're buying a new bike it comes without pedals.