New to riding or looking for some sweet gear? Well, here are my personal recommendations, many of which I own and use on a regular basis.
Helmet
I wear the SCOTT SUPRA helmet when on the road or the trails. I walked into the bike shop and that's what was recommended. I'm fairly happy about it. It fits really well and has an adjustable knob in the back to get the exact fit I want.
While the Supra is a fairly decent helmet for the price, there are some other very popular models out there.
Here's some other popular bike helmet recommendations:
Thousand Helmet: This is probably the most recommended helmet I've found. First time I tried this on I went "whoa". It's actually a really cool helmet. It's super stylish with a nice urban look that's great for city riding. It's also both cycling and skateboard certified, so you can wear it for both.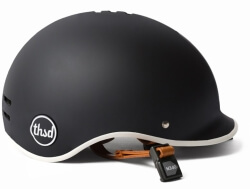 What's really cool is that is comes with anti-theft and accident replacement guarantee. If something happens to your helmet, you'll get a free replacement.
Check out out the rating and 1,000+ Amazon reviews here or REI for member dividends.