If you love bikes and are starting a family, bringing your little one out on family trips or for errands is an exciting idea. But for the first few years, your baby is too young to ride on their own. A bike seat is a perfect solution, but what age can your baby ride in a bike seat?
A baby can start to ride in a bike seat at around 9 months to 1 year. This is the time they can support the weight of their own head and helmet. A front-mounted seat ranges from 9 months to 3 years or 33lbs. A rear-mounted seat ranges from 12 months to 48lbs.
Here's a summary of different child bike seats and recommended ages:
| | | |
| --- | --- | --- |
| Seat Type | Min Age | Max Age |
| Font Seat | 9-12 months | 2.5-3 years (33 lbs) |
| Rear Seat | 9-12 months | 6 years (48 lbs) |
| Trailer | 9-12 months | 75 lbs (single), 100 lbs (double) |
To get started, you will need to give some thought into the different types of bike seats and some important safety tips. It can be hard to navigate through all the advice on different types of seats, different models, and different ages.
This article below gives you all the details you will need, so you can enjoy your two-wheel time together when the time is right. 
What Age Can My Baby Ride With Me?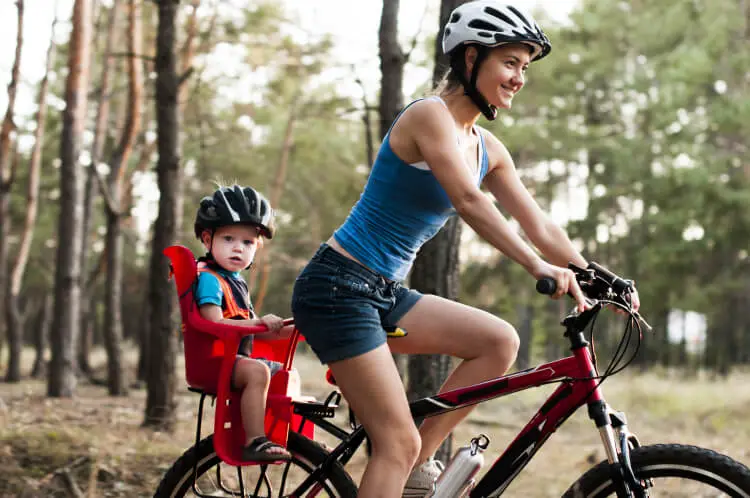 This is usually the first question parents will ask. Unfortunately, there isn't a single age when your baby is ready for the bike seat. However, it's typically around 9 months old. This is the average age your baby can support its own head and a helmet.
For this reason, it's important to look at your baby's physical development rather than going by an exact age. This will vary from child to child. What age is right for one baby might not be right for another. So what physical qualities should your baby have to ride in a child bike seat?
A baby needs to be able to sit up unaided to be safe and comfortable on a bike seat. This is because bike seats don't offer upper body support. If a baby can't hold itself up on the floor, they are likely to be a lot of discomfort in a bike seat.
The strength needed to sit up also allows them to adjust themselves. During a regular bike ride, you'll be stopping and going, taking turns, and going over bumps. The baby will naturally get shifted, so it's important they are able to adjust themselves.
Besides physical posture, there are a few other parts to look at. Things like exposure to pollution, the potential for an accident, and even how bumpy rides could affect your baby's head are all factors to consider.
The type of riding and routes will also be a deciding factor. The age you might choose to take your baby out on a gentle ride around the park may well be different than taking them through downtime traffic.
How Old Is Too Old?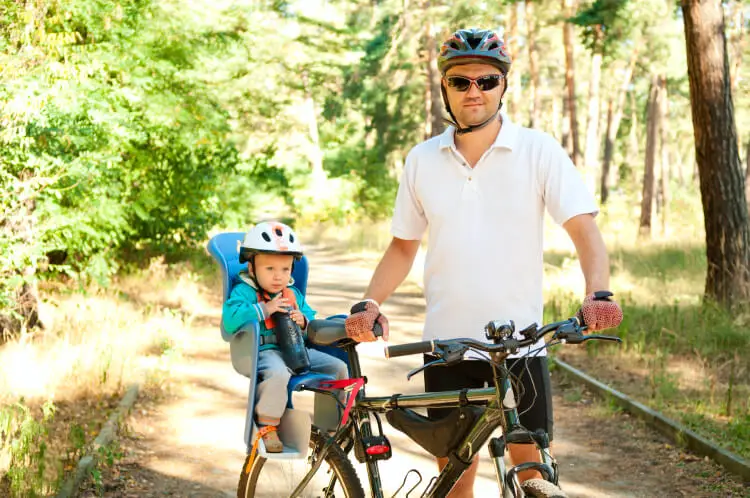 Children generally start moving out of bike seats around 5 years old. There are no fast and hard rules here. But around 5 years old, kids will often be riding their own bikes at this age. A taste of freedom can mean a sudden shift to wanting to ride their own bike than with a parent.
Child bike seats usually have an upper weight capacity. This is an easy way to tell when your child has grown out of it. Many front-mounted models have a restriction around 30lbs, with trailers and rear-mounted versions usually slightly higher. 
What About the Law?
Different countries and even different states have their own rules. Or in some cases, no rules. While this may seem frustrating, it could make things worse as each baby is different.
Some regions enforce a minimum 9 month age restriction for allowing baby's in a bike seat and while some insist on 12 months. Each baby is different, but 9 months old is the earliest time to start considering the possibility.
You will have many years of riding together, so there is no need to rush your baby onto a seat if they aren't ready. Also, if you're not sure whether they have developed physically enough you can always check with your doctor.  
Other Bike Options
Kids will often have their own balance bike to gain some riding experience. This doesn't mean still can't join you on longer journeys.
If you find you're looking to bridge the gap between a bike seat and your child being able to ride their own, there are a few other options to explore. 
This is a great video that explains different bike seat options for different ages:
Cargo bikes, although expensive, can take older kids and even more than one kid if you have a growing family. These are very popular in Europe and have even become a car replacement in some families.
If the thought of pedaling your family and your groceries around seems like a chore, they are actually lighter than they look. If you're still not convinced, there are electric options. However, electric options can become pricey.
Trailer bikes (not be mistaken for bike trailers) usually have models for older kids too.  Some versions that allow your child to help with the pedaling. This can be a good option to give your child more experience and build some strength before they go solo.
While bike seat prices can vary, cargo and trailers can quickly add up. It's definitely worth doing some research to make sure you understand the different models. Also, don't be afraid to visit your Local Bike Store for questions and expert advice.
Front vs Rear Bike Seat Ages
There are two places to mount your baby bike seat; on the front and on the rear. They both have their pros and cons, so it's best to see which one works best for you and your baby.
Having your baby in a front-mounted seat is best from 9 months to 2.5 years. The front bike seats allows you to see your baby and is a nice feeling to have them between your arms. Your baby will be able to see where they are going too, giving them a better riding experience.
The downside to front-mounted seats is that it can impair your vision a bit and won't be as comfortable. You may need to keep your knees slightly outward.
Once your baby is older, they can migrate to the rear style bike seats. These seats leave your baby out sight, but balancing will be easier. The handling of the bike can feel very different when you add the weight of a seat and a baby, regardless of the mount.
It can be a good idea to add the seat and add something heavy to go for a test ride. Learning the technique for getting on and off the bike with a seat attached is definitely less pressured when you're on your own!
Baby Bike Seat Safety
One of the most common accidents that happen with small children, is there foot getting caught in the spokes. Some quick measuring can help see if this needs addressing. Spoke guards or a reposition of the seat can help here if your seat doesn't take care of the issue already.
Bike helmets are compulsory by law for children in most states. Getting a good quality well-fitted helmet should be a priority before a child takes their first ride. Accidents do happen on bikes and a helmet is your first line of protection. 
What About a Bike Trailer?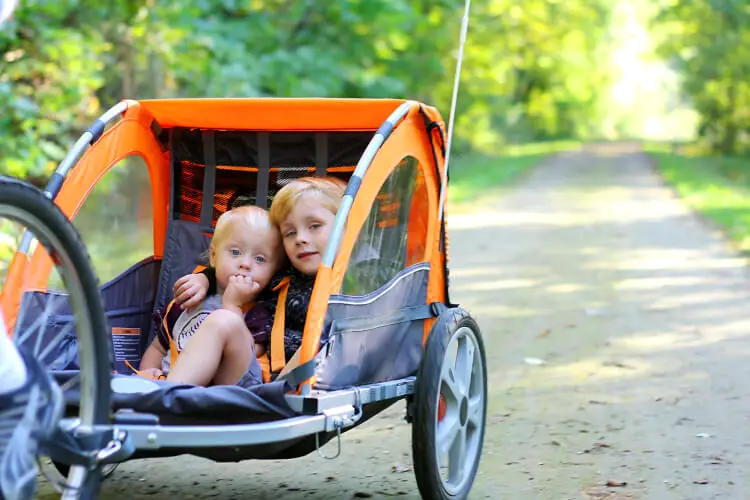 Bike Trailers are another great way of transporting your child and they can offer some extra protection. These are often a comfortable option and there is usually room to bring some toys along too. 
Being low to the ground, trailers have less chance of toppling over. However, you do need to factor in the extra size. This is obviously important for riding on roads and maneuvering through tight spaces, but also important to think about when parking. If you're riding to the store or want to stop for a coffee, it can be tricky since there might not be enough room on the sidewalk fo for the bike.
While it's largely advised to keep the same minimum age restrictions as bike seats, trailers usually have a higher load capacity.  Some are more than double the capacity of seats which means you will likely get a few more years out of one. 
There are lots of elements to consider with trailers. Some have great features, such as doubling up as strollers. The wheel size, suspension, and seat size will all play a role in how comfortable the trailer is, but you should also consider choosing a bright color. Sitting close to the ground trailers can be easily missed by motorists so having a color that stands out can be a good decision. 
Baby Bike Seat Recommendations
Hamax Caress Rear Child Bike Seat
One of the more popular companies out there is Hamax. Their seats are safety-certified and meets the tough European and ASTM safety standards.
They've even won several awards including "Best in Test" by Dutch consumer group and Winner of Red Dot Product Design Award.
Hamax pretty much thought of everything to keep your baby safe and easy to use:
Grows with your child from 9 months to 6 years (48.5 pounds/22 kilograms), which means you don't need to buy another seat.
Single hand adjustment on every feature, so you can safely adjust the seat while holding onto your bike.
Reclines up to 20 degrees so your little one stays comfortable when napping.
Ultra shock-absorbing suspension to help protect your baby on those bumpy rides.
Most riders who purchase this seat are quite happy with it. Have a look at the Amazon reviews.
Burley – Dash X FM
Burley are well known for their trailers, but their bike seats are also well regarded. This version of the popular Dash, mounts on the frame with your baby sat comfortably at the back of the bike. 
As well as having a high weight limit (40lbs) there are lots of adjustments you can make. The harness is super adjustable so it can accommodate your baby as they grow.
Burley meets the ASTM & EN regulatory standards for safety and comes with all the features you expect in a quality seat.
Aside from having easy mounting and reclining features, seat and harness are removable and hand washable. It even has a cool storage compartment in the back for extra baby items.
One of the most useful features is the ability to recline, which is key for comfort on longer rides. Allowing your baby to be in a position to take a nap when they need to, can make the ride more enjoyable for both you.
Check out the seat on the Official Burley Website.
Thule Yepp Nexxt Mini Child Bike Seat
Aimed at a younger baby, this version of the Yepp attaches to the front of the bike. The capacity here is 30lbs and Thule recommends an age bracket of 9 months to 3 years. The real advantage of this model is the smaller size and weight advantage. 
While it still has the capability for adjustments, the Yepp is really light coming in at 3.6 lbs. For short commutes and storage, this would definitely be an option to consider. It's also able to be detached quickly. While other seats may give you more years of use, this would be a good option to consider for short, hassle-free rides.