The sight of food being delivered on our roads is increasingly common. In fact, Forbes estimates the online food industry will be worth $200B by 2025. As we see the cyclists, cars, and mopeds working their way through the streets, it is worth considering if electric bikes could be the delivery mode of the future. 
So is delivering food on electric bikes a good idea? This post will cover:
Is buying an ebike for food delivery worth it?
What to expect delivering food on your ebike
Food delivery tips (and best apps to use)
Food delivery equipment for your bike
Best electric bikes for food delivery
Food Delivery on eBikes
With a choice between pedaling or running on power, an eBike would initially seem like the perfect compromise between a motor vehicle and a bike (see our ebike vs moped comparison). However, there are lots of things to consider before we can say if an electric bike is worth it.
Nobody wants cold food delivered if the transport isn't fast enough. And you want to make sure investing in an ebike is worth the cost. Well, we have dug into the research to help you decide if it's a wise choice.
More speed means more deliveries
As the number of deliveries you can make increases, so does the amount of money you make as a food courier. While the distance to delivery destinations tend to be closer in the city than the suburbs, it's not unusual for a delivery to be as far away as three miles.
If your next pick up is from the same place as the last, that's a potential 6-mile round trip. 50-60 miles a day is unusual for a delivery rider and while the top speeds on a bike are dependent on the person, it's likely to reduce after many hours in the saddle as fatigue sets in.
So how many miles do electric bikes cover? There is a huge range in distance between models, some batteries will drain at 20 miles while others can manage 70 miles on a single charge. You can, of course, recharge your battery, but that's not always practical if you're working a long shift. But worst-case scenario is that you can use your ebike without a battery.
There are some seriously fast high-end eBikes with incredible maximum speeds available. The Dogati Super Electric Bike can reach a stunning 110km/h, but before you start calculating how many deliveries that would be, you're limited to 30km/h by law when using an electronic bike in a public place. This is still a huge benefit as you can achieve those speeds consistently throughout the day.
So how does this work out in practicality? Does the extra power and more consistent speed mean it's possible to increase your earnings? Well, there are a lot of variables to consider. Couriers' routes are different, mileage will vary greatly, and different companies offer different levels of pay (and there are often bonus structures).
While we don't have any absolute numbers, research shows the number of people who have swapped a traditional bike for an eBike to achieve an extra 2 and sometimes 3 deliveries an hour. That helps take their pay to above the $30 an hour mark and if you're working 5 days a week, that's a significant difference.
CHARGING YOUR ELECTRIC BIKE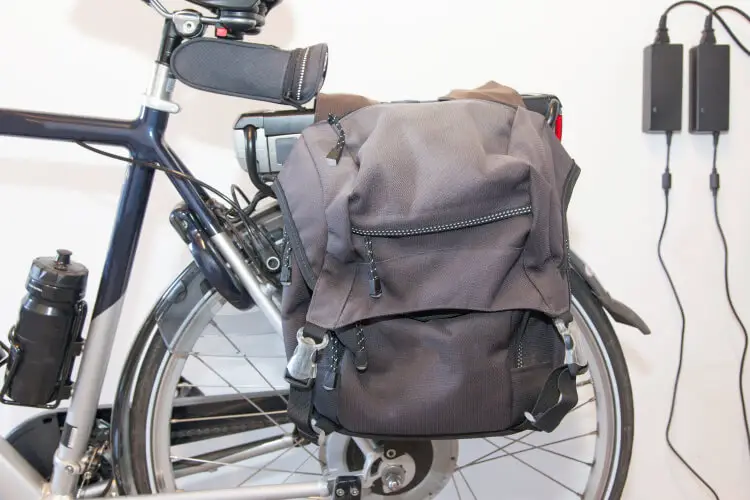 Those extra deliveries come at a cost because like anything with power there is a price for the energy. However, unlike other powered vehicles, it's actually very cheap to charge your eBike. How cheap exactly? Charging an electric bike costs a few pennies. We even put together a calculator to calculate how much it cost to recharge your ebike battery.
So once it's charged you're set for the day? Well not quite. EBikes models vary a lot in terms of how many miles they can cover before they need to be recharged. One thing that is consistent though, is if you switch between power and pedaling from time to time, you're going to save battery life. Weight of rider, terrain, the weight of food, tire pressure (see the perfect ebike tire pressure), and most importantly, battery power, all affect the number of miles from a single charge.
If you are out all day making deliveries, you'll want a battery that lasts a long time. You might just get by with the popular Rad City Step Thru 3 with a 25-45 mile, you can find plenty of bikes around the 70 miles range as well.
Some electronic bikes allow you to quickly change batteries although the price of a spare can add a lot to your initial purchase. Ebike batteries weigh about 7lbs, so they aren't terribly heavy to carry. For high mileage riders, there are large volume batteries like the Triangle from Luna and people regularly report getting over 100 miles per charge from these which would cover even the most demanding route.
Cost
It would be hard to put a case together for a standard bike being better for food delivery than an ebike. After all, an electronic bike can do everything a bike can and more. As amazing as Ebike are, but things become a little less black and white once you start looking at prices.
The entry point for something that could be considered for the demands of food delivery is around $1,500. From there, prices can go up quickly. If you want a spare battery to make sure you're not caught out, you're looking in the region of an additional $800. 
It's a big investment but with the extra deliveries, you would have the opportunity to make money back and more. But, of course, that depends on how long you would be doing the job for and how many hours you put in. 
Food Delivery Tips
Before you hop on and start delivering food on your ebike, there a few things to know. First is you'll need to sign up with the right delivery apps. Then, you'll need the right equipment to carry your delivery. And Lastly, you'll need a way to keep your bike safe while out on delivery. Let's take a look.
Getting Started With Apps
If you're new to food delivery or doing some research to work out if it's for you, there are a growing number of apps available. One benefit of this type of work is if you choose to move to a city, a lot of delivery apps will allow you to pick up straight away in your new location.
When it comes to delivery apps, there are a few options:
Deliveroo
Uber Eats
DoorDash
Postmates
The main names you will hear are Deliveroo and Uber Eats and there is nothing wrong with using these as your starting point. However, it's also worth looking a little deeper and for other alternatives.
DoorDash is a fast growing competitor but be sure to check that the place you live allows for bike delivery. Postmates drivers deliver both restaurant meals and groceries, but you should check the capacity of the bike as grocery orders can take up a large volume and can get heavy very quickly. They pay up to $25 an hour and operate in a lot of the major cities.
One trend we have noticed is that new companies entering the food delivery space often start out paying more initially to attract delivery people. This goes down over time but It's worth keeping in contact with the restaurants so you can identify and take advantage of any new services.
Carrying Food 
If you don't have a bike yet for food delivery, one option is buying a bike that already has storage included like the Urban Arrow Cargo Range. The largest of these comes with a massive 700 liter capacity.
However, if you already have a bike, adding storage or carry it yourself. Some riders simply carry the boxes on their back and most food delivery services will give you a branded hot/cold box to use.
Another low cost option is to attach a trunk cooler bag to your bike. The BV trunk cooler bag easily detaches and comes with a shoulder strap. This makes it easy to remove and carry the cooler when you reach your destination.
To maximize the load you're able to carry, a rack from a reputable brand like Topeak allows you to carry pannier as well as something on your back. Safety is important to consider as when the load you're carrying increases, balance is more difficult. Having the facility to balance storage on both sides of the bike helps with this and the Bushwhacker Omaha allows good storage on either side of the wheel.
Navigating the Roads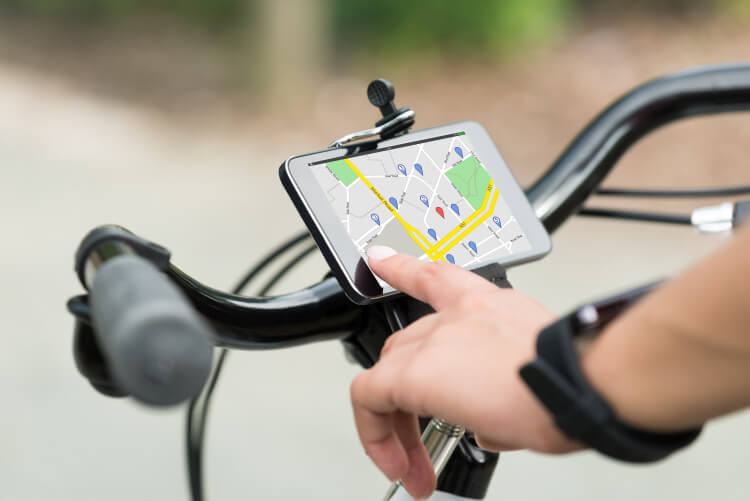 As far as navigation, there are a huge number of phone mounts available. The TruActive Premium Edition, in particular, has the main features we would be seeking out. Namely, it should be rugged, should sit close to the handlebars, and be adjustable between horizontal and vertical. Frame mounts can encourage you to take your eyes off the road for a split second which is something you will want to avoid.
There are lots of apps to get you around the city and Google Maps, Waze and UberNav are the most popular choices.  These apps do drain battery life quickly and it's worth calculating if the battery life of your phone will stand up to long shifts in the saddle.
There are stand alone GPS units that might be an option for the most committed delivery person. These have advantages beyond an increase in power, are often waterproof, rugged and durable and are able to import maps.  The Garmin Edge 520 even detects cars, which could be useful throughout your routes.
Keeping your eBike Safe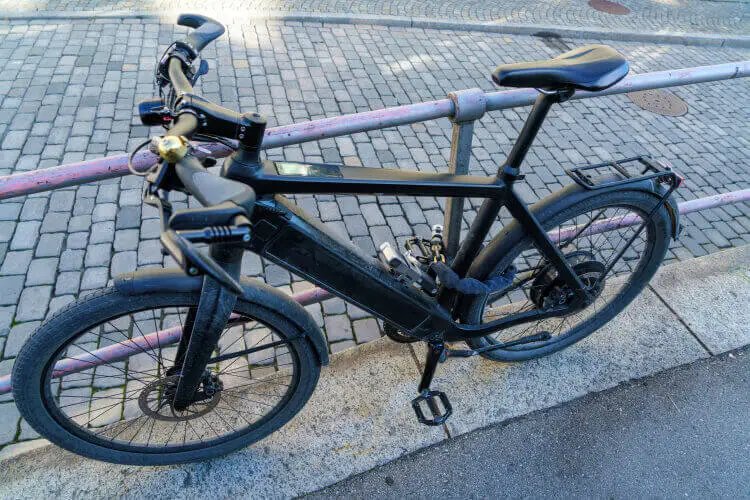 With the level of investment needed for an electronic bike you will definitely want to explore the best options for keeping it safe. Bike thieves, unfortunately, can be armed with bolt cutters and even angle grinders and there is no 100% safe lock. The closer your bike is to you, the safer it is. There will be times when access isn't great and you will need to lock it up to make your delivery. 
Having two locks buys you some time if someone is intent on trying to make off with your bike. The old fashioned D lock still remains a good option but while the XL sized models look the toughest, using something that fits tightly around the frame actually works much better. Having your frame locked tightly to the post means it will be harder to get a crowbar in the gap. If you lock it especially tight, it will give very little give and will need cutting twice to open it wide enough to get the bike out.
For a second lock, The Kryptonite New York is a popular choice for a number of reasons. It has a 14mm chain link and is a substantial heavy duty lock. While a chain lock on its own wouldn't be ideal, this paired with a D lock would be a useful combination if you do have to leave your bike out of sight.
Best eBikes for Food Delivery
When you're choosing a bike there are a few things to consider. The battery should be at the top of the list and the more expensive bikes have batteries that will often give you more mileage per charge as well as charging more quickly. 
The range is also key here and using the manufacturer's spec sheet will help allow you to make an informed decision. With any eBike we would recommend a test ride. Like standard bikes, the fitting, comfort, and weight all need to be experienced first hand. With eBikes being such big investments, you really don't want any surprises when your new bikes arrives. Lots of companies allow trials and bike shops will often let you try before you commit.
So with so many eBikes entering the market, which are best for food delivery?
RadWagon Electric Cargo Bike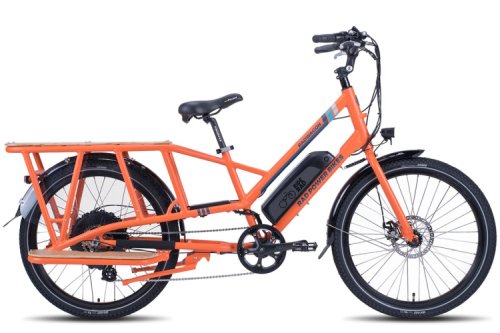 This is a strong contender for food delivery and the racks are invaluable. Even if this wasn't an electric bike it would be a nicely designed bike for roads and carrying cargo. The integrated brake lights are a really nice safety feature and puncture resistant tires are going to save you time in the long run. 
The mileage rating is 25-45 miles per charge which may be a little on the low side for some, so it would be worth considering your current situation mileage in comparison.
Urban Arrow
The Dutch know a thing or two about bikes and Urban Arrow has started making inroads into the USA market recently. The cargo range offers options for a wide range of capacities depending on how much food you want to carry. The Shorty is their smaller model and has a scooter type design. At the other end, the Cargo XL is a large bike with a serious 300-620 liter capacity. If your focus is on volume capacity, this range will offer you something. 
It's worth noting that Urban Arrow doesn't offer the mileage range in their specs but the motors are Bosch 500w which come well regarded.
Tern Bicycles GSD
The GSD has been winning awards since its release. It has an impressive 181kg carrying capacity and as it's designed to be capable of carrying two kids on the back, it won't struggle with your pizza and burger orders! 
The accessories are impressive and the Cargo Hold Panniers would definitely be worth considering. It's one of the few models that can house two batteries so if you do need extra power, the two battery option gets you up to 250km.  Even the single battery offers 110km which is more than most on the market today.
The bike can be folded down in a few seconds which is great if you need to go in lifts. It's also a low riding position, so easy to get on and off in a hurry and helps with balance if you're carrying a heavy load. If you have the budget, this is a fantastic bike but features and design come at a premium price of around $4,000.
This will rule out many people but particularly those who are considering food delivery or just starting out. If you're still on the fence then there are other options for you that aren't such a big financial commitment.
Bolt Bikes
Our final choice targets those exact people who might just be starting to look at an electronic bike without too much outlay.  The Bolt Bike is a really strong contender in this category. Again, there is a lower mileage rating than might suit everyone but the bikes are well designed and created specifically for food delivery riders working for the likes of Deliveroo and Uber Eats. 
The most interesting feature here is that the Bolt Bikes are actually rental bikes. It's a great way to test if an eBike works for you without having to make the investment. It also happens to be a really nice bike with a rear rack and safety lights. If you're unsure at this stage, this is an ideal way to try before you buy. Rentals start from $39 and there is an option for a Rent to Own starting at $49.
Summary 
We can safely say electric bikes are becoming a popular choice for food delivery. The popularity isn't growing slowly either and the big players like Domino's (who have agreed an exclusive eBike deal with Rad Bike) are getting on board. 
So will an eBike make your deliveries easier and help you make more money? The answer is probably yes. If you can afford the heavy initial outlay you will be able to make more deliveries and that works in your favor financially, especially in the long run.
However, the key is to think about how much mileage you do and how many hours you work. If you're doing less than 10 hours per week and the deliveries are close, it may not be worth the investment, but if you're really putting in the hours and clocking up the miles then it does make sense. 
We would add that you should choose a battery that covers your mileage on the heaviest days and think carefully about a locking system that doesn't rely on just one lock.